The Allstar Nationals: Ultimate Power Round 3,
Wild Bunch Round 6, Real Steel Round 8,
27th-29th August '05
Friday and Saturday,
Team Twisted managed a record breaking early start and arrived at the track at about 1:30pm. But, we were by no means first there as several eager Bunchers were already in situ. We unloaded the Belle and set up camp for the weekend. Crew member Dave appeared on Friday evening and provided us with most of the photo's which accompany this report.
If you could read that t-shirt from here, you probably wished you couldn't...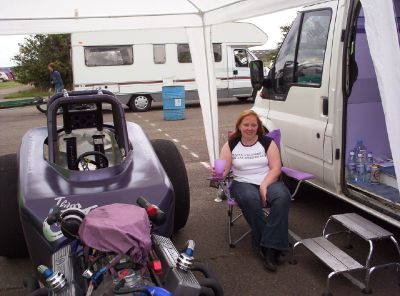 Saturday was the first day of qualifying and the running order showed an optimistic four rounds. We dialled in a low ten for the first qualifier but a disconnected transbrake gave us a red light with no time recorded. We corrected the problem and checked over the Belle before heading out for the second round; only to run a 10.94 at 118mph. Still not happy with the running of the new ignition we switched back to the old system once again and found the smooth running we were expecting. Back on the track for the third qualifying round we hit 10.295 on our 10.25 dial in. At 0.045 off the mark, we were safely back in the field.

Team Twisted heads down to the track.


Pooky and Penny tuck into "Mrs Bernies" finest... yum!
Dean and Penny celebrate a good days qualifying.
HOW many candles? Only kidding..! Happy Birthday Chris.
The fourth round of qualifying had begun but didn't get as far as the Wild Bunch, so the fourth and fifth qualifying rounds would be run on Sunday. We kicked back for the evening and enjoyed the odd drink and refreshment. Crazy Chris Hartnell from the Backdraft team was celebrating his birthday and kindly shared his cake and drunken ramblings with us.
Also a first for the AllStar Nationals was the provision of a lap dancing tent down near the bar....... unfortunately, the Belle's rather thirsty habit for race fuel had consumed the last of Team Twisted's disposable income leaving the crew rather short of the £20 entrance fee.......