The Allstar Nationals: Ultimate Power Round 3,
Wild Bunch Round 6, Real Steel Round 8,
27th-29th August '05
Sunday and Monday
Sunday morning saw the remaining classes complete the fourth qualifying round. During the day we had a friend, Jim, spectating for the first time and he was in for a great days racing. The Wild Bunch ran at about half eleven and we dialled in our best e.t. from Saturday: 10.29. The Belle was obviously in a good mood and ran through the traps in 10.08 at 130mph pushing us to a breakout whilst Crazy Chris ran a safe 8.97 just above his dial in.
Red slingshot v purple altered....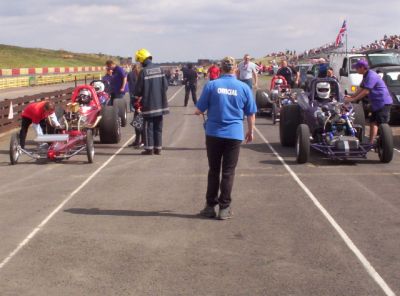 The fifth and final qualifying round saw us run 10.14 on a 10.08 dial in at 130mph. This final session saw little change in the qualifying positions and left us content in the middle of the Bunch. Although several other classes ran their first elimination round on Sunday, we stood down for the day as the Bunch wasn't going to run until Monday morning.



Marshal Bev lines up another qualifier...
The Belle and the team in front of a great crowd.
Those burnouts don't get any straighter!
Monday;
Another great day dawned and the team prepared for a very sunny days racing. Today we had some more first time spectators; Craig and his daughter; Alex who had come to watch us race.
For the first round we were up against Tony Wynne-Jones in the Welsh Raider Corvette, and it would turn out to be a very close race indeed.... Following the burnout the two cars staged before a flash of amber and Tony headed off into the distance. Helen's light turned green and the chase was on, it was too close to tell from the start line but she just managed to catch Tony at the line running 10.12 to our 10.08 dial in with a win margin of just 0.08s.
The second round came a couple of hours later and we had a bye run collecting 10.20 at 129mph against our 10.08 dial in. Not bad, but we would have to be closer to get through another round.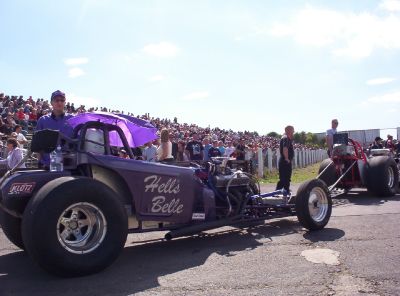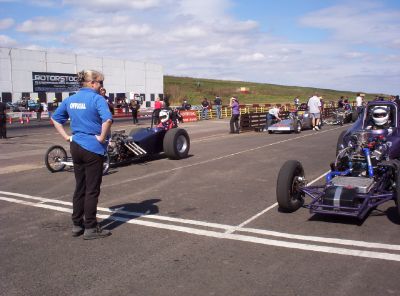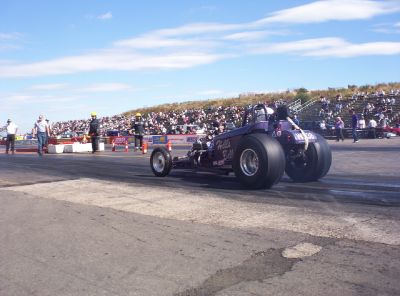 d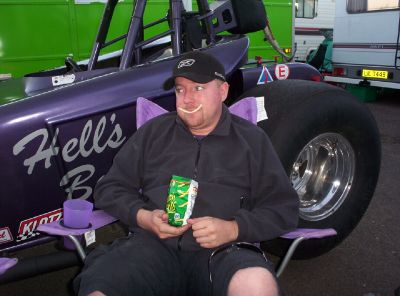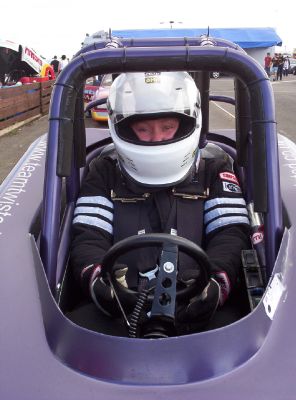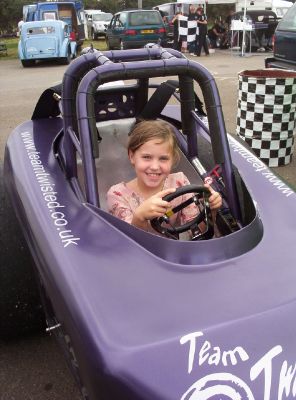 New Twisted Fan Alex gets to grips with the Belle!
Inside there is a great big grin :0)
Crewman Dave shows us his "happy face"
The third round came and we were against Crazy Chris in Backdraft. We waited expectantly in the fire up road for our time to come, but when it came time to start the Belle she just didn't want to know. She cranked lazily and just wouldn't fire, and in the end we had to wave Chris on to a bye run into the final.
We pushed the Belle back to the pits for diagnosis before heading back down to the track to watch the final round with Craig and Alex.
The final came and we held our breath as Crazy Chris faced Phil Sweeny in the "Antisocial" slingshot. With a full 4 second handicap it seemed forever as Phil headed down the track before Chris blasted off.. once again it was a very close race but Phil just sneaked through, running a perfect e.t. and hitting his dial in bang on!
This finalised the Ultimate Power Championship for 2005 with the following top five:
1st Sarah Howells in "Destiny's Angel"
2nd Tony Smith in "The Cunning Plan"
3rd Chris Hartnell in "Backdraft"
4th Helen Smythe in "Hell's Belle"
5th Phil Sweeney in "Antisocial"
So with congratulations to Phil and all the other teams, and a huge thank you to the organisers and track staff the Allstar Nationals turned out to be a fun event for us, The Wild Bunch and the spectators!!