Wild Bunch Round 1 & Real Steel Round 1
Saturday
Saturday Morning
Happy Bitrthday! Dean celebrated his hmm hmmth Birthday on Saturday morning and Christine made sure he enjoyed it with a balloon chorus! Breakfast followed shortly, in the form of choccy cake with card and pressie opening.
After breakfast, we got on with preparing the car for the days practice, assisted by the arrival of our other crew member, Dave.
The weather was good and we anticipated a good days practice, although the outlook for Sunday was pretty grim.
Birthday balloon wake up call for Dean!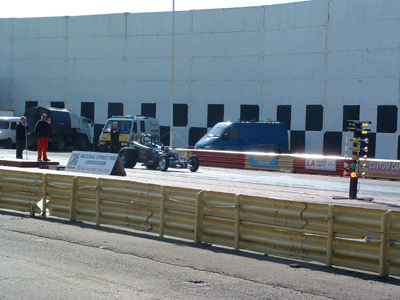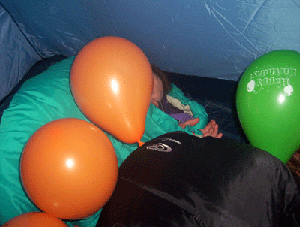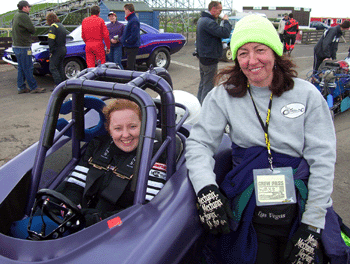 Noon Saturday
Helen made two passes before lunch. 12.948@102.97 and 13.04@101.81 On the second pass Helen pulled a 0.041 reaction time (using the new 0.000 perfect tree).
The first run was also an observed run to get Helen's MSA license signed off.
After the excitement of the morning we had a short lunch break which involved more choccy cake!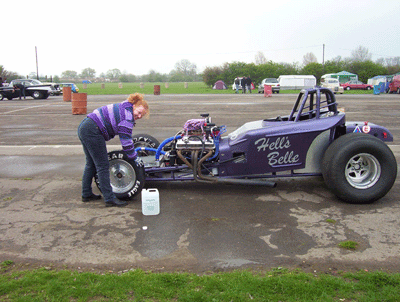 A touch of Spring cleaning before the sructineering.
One of four good passes on Saturday.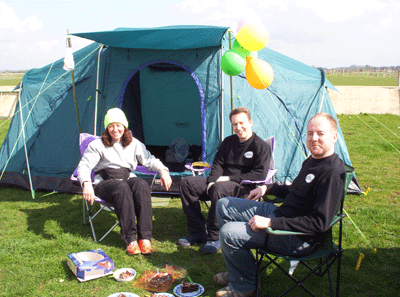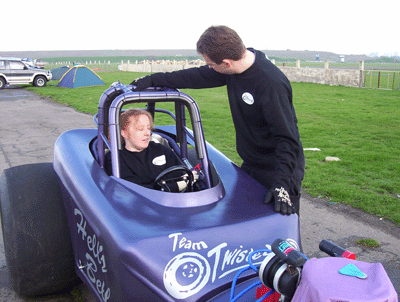 Saturday Afternoon
We had two more passes, 13.103@102.97, and 13.012@102.27.
Unfortunately those two runs also saw some small technical problems with a low oil pressure warning and a flooded carb. So we had to tow Hell's Bells back to the pits for some tinkering.
After racing had finished, Helen completed her blindfolded orientation and cockpit escape. The orientation and the earlier observed run completed the requirements for getting her MSA license validated.
So Hell's Belle didn't feel left out, we also gained the MSA Car log book.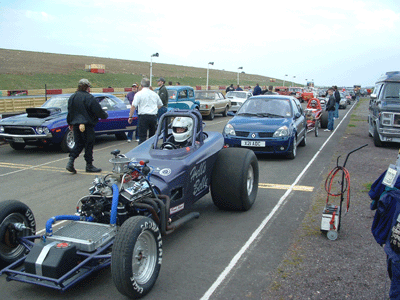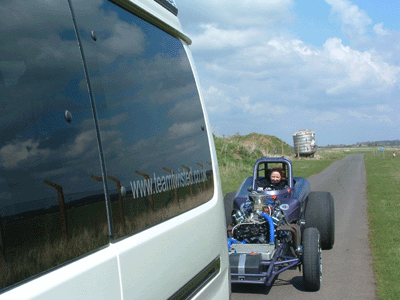 Mother and daughter, two peas in a pod....?
Lunch time and more Birthday cake for all!
Practising the cockpit orientation before the blindfolded MSA licensing test.
Great view of the car during a tow back to the pits.
In the staging lanes, ready to go...