The Halloween Showdown:
Shakespeare County Raceway
Saturday 30th October '04
Friday evening we arrived at Shakespeare County.
After unloading the car and setting up we started with a wee tipple, and then continued to decorate the van with a few Halloween banners, ghosts and pumpkins. It was good to see a few other teams had also got in the "spirit" of the event!! (the old ones are the best...)
Who's the little fella dancing in Helen's drink?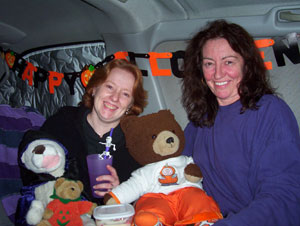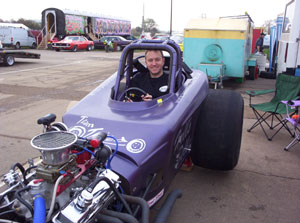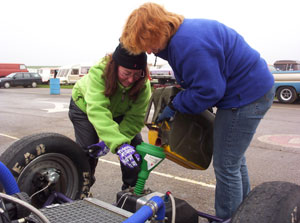 Saturday morning.
The Halloween meet was going to be a bit different for Team Twisted as Dean was going to be driving for this event. (mainly because Helen wanted to play at dressing up!!) Dean hadn't driven since February so was looking forward to it, although with a few butterflies as well. The rain that fell early Saturday morning had left the track and pits very damp and although the crew tried valiantly the track refused to dry properly throughout the morning.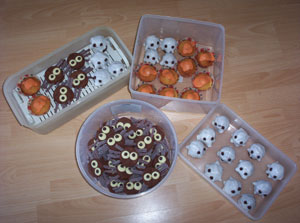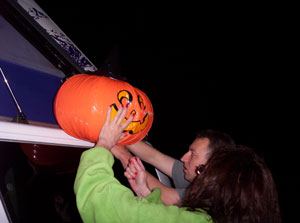 Oooooooo! Well scary.... (the pumpkin, not me, obviously)
Happy Face or just trapped wind?
About time Helen did some more work on the car...
The whole team in "spook" mode.
Saturday afternoon saw the track come around enough for treaded tyres to run, but Team Twisted had to settle for an afternoon of tinkering and chatting.
After nagging all day, Saturday evening saw Helen and Christine transformed into their Halloween outfits; a red Devil and a purple witch. The team went out and handed out treats in the shape of ghost cakes, spider biscuits and orange cakes. We watched the bonfire and Helen was a brave girl and stayed outside for the fireworks. (only because the fire crew were stood next to her!) After a few drinks and a great evening, we headed for bed to rest up for the next days track time.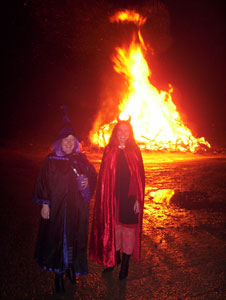 Christine and Helen fit in fine with the evenings entertainment.