The Halloween Showdown:
Shakespeare County Raceway
Sunday 31st October '04
Sunday Morning
After handing out headache tablets to some of our fellow Wildbunchers, we eagerly got dressed ready for the staging lanes fancy dress competition (no one told us it had been moved to last night in the bar!) The track was again a bit damp from overnight but we soon started queuing to get onto the track.
All the team dressed up for Halloween.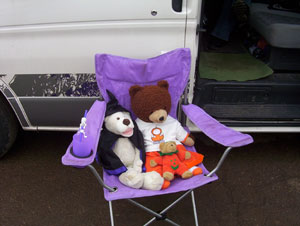 After lapping back into the queue, the second start proved to be much better with Dean getting more relaxed and running 13.18 @ 97.4mph. By this point Dean was really enjoying the driving (too much for Helen's liking!!) so he again queued for his final run at 4:20 p.m. This proved the best run of the day with a 13.05 @97.8 mph. Although not quite into the 12's Dean was pleased with three new PB's through the day.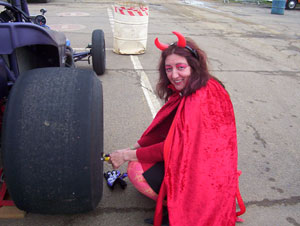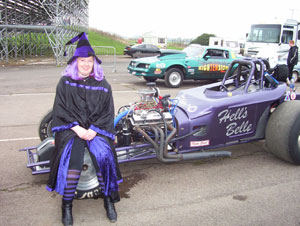 Sunday afternoon saw Dean's first run in 8 months and he immediately ran a new Personal Best (PB) of 13.19 @ 97.8mph. The start was a bit of a mess with Dean rolling through the stage beam, but the starter kindly pulled him back into stage for a second attempt.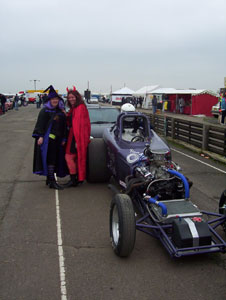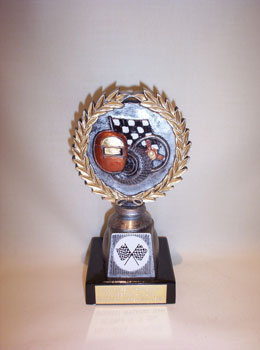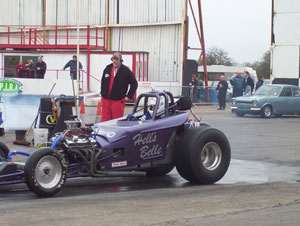 "Devilishly" difficult to do this without standing on one's tail....
"Witch" way to the racetrack?
The team showing off their great costumes in the staging lanes.
"The Spookiest Team" and that was before they dressed up!!
All in all we had a great weekend, although Helen and Chris were the only one's dressed up in the staging lanes they didn't seem to care and drew many wonderful comments from competitors and spectators alike. There efforts did not go in vain as they won the Spookiest Team trophy to add to our racing collection for the year. In or out of the car, there's no stopping that girl!!