The Allstar Nationals: Real Steel Round 9, Wild Bunch Round 6 & Ultimate Power Series Round 3
27th/28th August '04
Friday
We arrived to a very full pits on Friday evening and was one of the last four Wild Bunchers to arrive. Although the allocated pit area was miles from the track it turned out to be quite a nice spot, not to cramped or noisy. Friday night also saw the arrival of our friends Ben and Ulla, (over from Germany for the weekend).
Could we be any further from the track?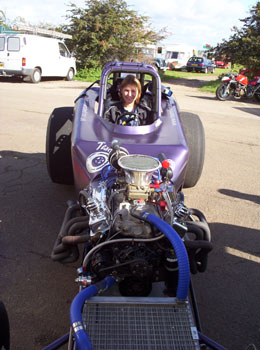 Through the day our "virgin" drag racing spectators seemed to enjoy the events, and Ulla tried out the car for size. (What is it with these women!)
Or first run of the weekend was just after midday and we ran 13.24@98mph on a 13.0 dial in. The second run didn't go to plan with Helen getting her first red light and no times being recorded. At the end of the first day we had qualified 3rd.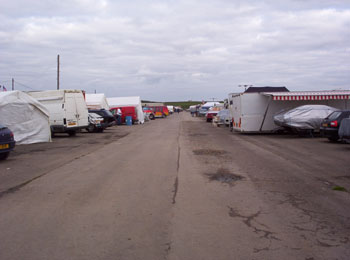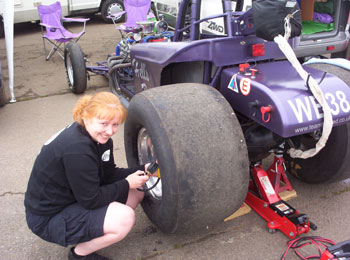 Ahhh the age old tradition of BBQ and JD ...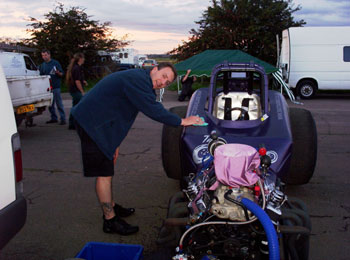 Saturday
It turned out the Wild Bunch was quite a way down the running order for the qualifying so there was plenty of time to get the car ready. Because of space limitations and travel commitments we had neither of our usual crew members with us. So for the first time in a long time, Helen had to get on with some of the crew duties...


Crew Chief Dean giving the Belle her first wash of the weekend.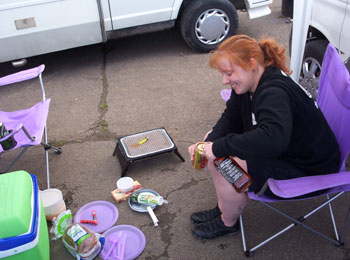 Helen has to do her own tyre pressures this weekend.
Ulla tries the driving seat for size, vroom vroom!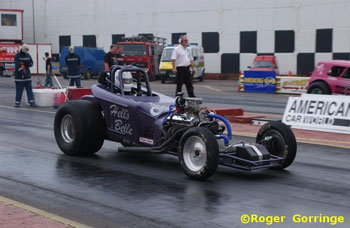 Thanks to Roger for a great start line photo ...
We finished the day off with a barbeque and a drop of the old JD before visiting Mark and Lynne Coulsell who were celebrating their recent marriage with a party in their pit.