The Allstar Nationals: Real Steel Round 9, Wild Bunch Round 6 & Ultimate Power Series Round 3
29th/30th August '04
Sunday
We woke up to the pitter patter of rain on the roof of the Bongo van, showers were not on the cards for the weekend but decided to crash the party anyway. After fairly light showers for a couple of hours the track was dried and the Wild Bunch got out for their third qualifying round at lunchtime.
First light on Sunday and the showers have started.
Monday.
Monday is elimination day and the Bunchers were all paired together ready for the off. We ran against Stephen Field and dialled in a 13.10 again. We ran a pretty decent 13.21. Unfortunately the Black Pig broke their gearbox halfway down the track and we were through to the next round.
Our second round pairing was Mark Coulsell. Mark is known for his good reactions so we knew it was going to be close. We lost by 0.09s at the finish line. This was the closest margin by which anybody lost during the Wild Bunch competition and earned us the "Closest Runner Up" trophy.
As we were out after that round, we watched the rest of the competition from the stands. Tony Smith and Joe Stevens worked their way through the field on top form. The final was a close run race with Joe squeezing though to victory. Congratulations to Joe and well done to all those who took part!!
At around 2:30pm the rain came again, it started off gently but within minutes was lashing down. The pits turned into a river and although it stopped and started a couple of times, the track was never going to be dried in time and the day drew to a close. We had qualified 7th out of 13 and were paired against Stephen Field and the Black Pig team for our first elimination run on Monday.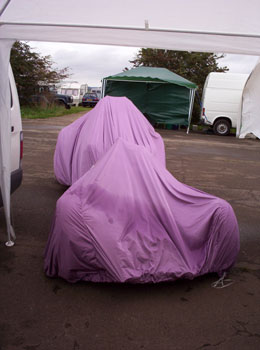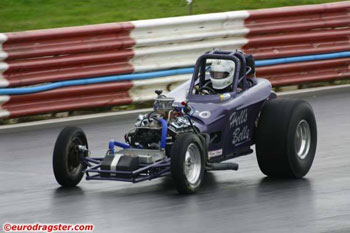 Our "Closest Runner Up" trophy...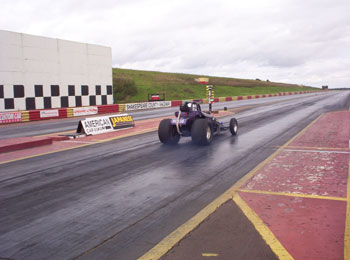 We paired with Tony Smith for this run, we dialled in a 13.10 and ran 13.24, almost identical to the first run yesterday. Tony dialled in 11.54 and ran a perfect 11.540 well done Tony!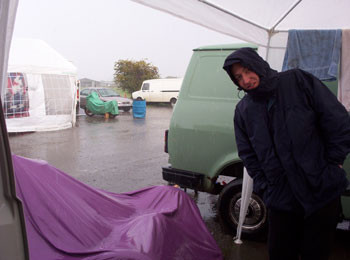 Helen in action at the top end of the track, courtesy of www.eurodragster.com
Ooooo, missus it didn't half rain!!