The Mini Weekender
Wild Bunch Series Round 4 & Real Steel Series Round 7
15th-16th July '06
With a reputation as long as my arm to stand up to, the 2006 Mini Showdown looked like it was going to be fun... and guess what? Two days of sweltering heat, rapid racing and one almighty Beach Party on Saturday night have done nothing but strengthen the feeling that this gig is fun with a capital "F".
We were fortunate enough to have crew member Chris with us after a period off-duty, and new crew member Steve was also arriving on Saturday morning to pitch in with the duties. Couple that with a visit from our family: Vicky, Pete, Evan and Craig and the weekend was looking good.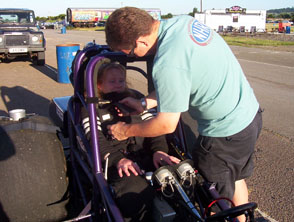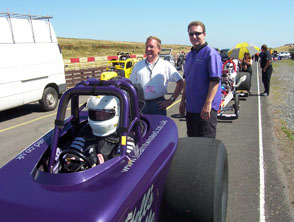 We were expecting the heat of the day to maybe slow the Belle down a little, but what actually happened was that we fought for traction for the rest of the afternoon. Combine that with a missed launch grabbing a red light, and the afternoon didn't go that well. When the Belle turned hard right after two launches, we ran a pair of 10's (10.65 and 10.96) and Helen gave up after the red light to cruise through to a 14s pass.
But never mind, we knew roughly where to dial in for Sunday, so as long as we could get off the line well, we'd be okay.
Tea time with Twisted Dean and crew member Chris.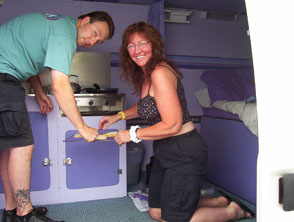 Dean and assistant, Steve...
But, a bit of business first. With the Belle's 6 point harness now being 4 years old, we needed to replace it. So we spent Friday evening in the warm sun fitting the belts and then had a spot of tea and a shandy or two.
Friday moved into Saturday, the sun came up, and at 11:30 we hit the fire up road. We decided to make a fast lap and ran 9.68 and 9.70 both at 136mph. This looked promising, so after this first pair of runs we settled down for lunch and a rest before heading into the afternoon.
As the sun began to set and the evening came home, we boarded our canoe and drifted into the lagoon next to us for a Wild Bunch Beach Party.
The gang had done a superb job of decorating the pit to resemble a beach scene complete with palm trees, parrots, sharks and a limbo pole. Loads of people got in the spirit and dressed up in grass skirts and loud shirts. As you can imagine an excellent time was had by all. To put a smile on your face, click here to see the pictures.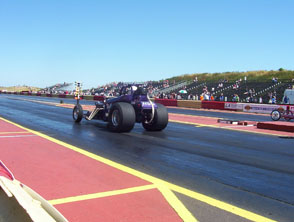 Sunday morning came round, Dean was nursing a throbin' noggin and the heat was still on.
We warmed up the Belle, picked a dial in of 9.75 and readied for the off. The first pass was a weekend best: 9.61 at 135mph. After lunch we ran the second session and managed a good 9.66 at a slightly slower 134mph. Both runs a bit too quick for our dial in. After a cool down period the Bunch readied for the third round.
At the launch the Bell made a slight move and Helen had to steer her back on course, this led to a too slow 10.21. Due to the very hot conditions the third round was the final round so we set about packing up before meeting the rest of the bunch by the Backdraft bus for the presentations.
Our performance wasn't good enough to be placed, but we'd had fun as usual and set off home with the Belle in one piece and a wide smile.