The Nostalgia Nationals
Wild Bunch Series Round 3 & Real Steel Series Round 6
Roy Wilding Nostalgia Racecar Series Round 1: Sunday 2nd July '06
Sunday,
After the manic heat yesterday, it looked like Sunday was going to get pretty funky too. We picked a dial-in of 9.72 figuring that was a pretty good average of Saturdays performance. With the high track temperature, a few street tyres on the track and a long day ahead we knew our consistency would not be at it's best.
Pushing AND smiling.... (nutter...)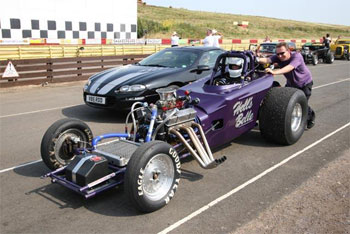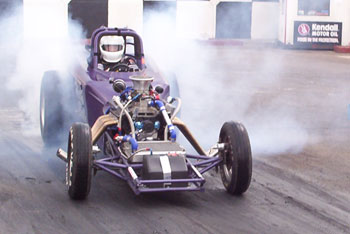 It's a classic....
"Does my bum look big in this?"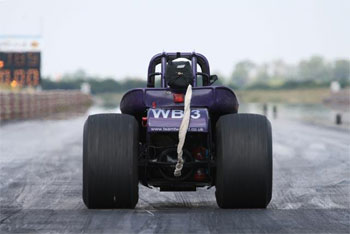 Oh yeah, getting smoke and a wee roll going too....
Sure enough the day got off to a hot start and with the track opening at a later 11:00 on Sunday's it was already hot when the bunch headed down for the first round.
A nice burnout followed by a pretty good launch saw Helen run down to a 9.65 at a slightly slower 134mph. That was 0.07 under our dial-in but not bad for us.
We had the on-board camera running again and this time had it pointed backwards to capture the view of the start line from down the track. You can just see the camera on the right hand side of the roll cage in the photo on the right of this page.
The day continued to be a hot one and the cars that weren't running a cooling system were taking a good couple of hours to cool down. This meant that we would only be aiming for 3 rounds through the day, and the next run came at about quarter to two.
A great reaction time of 0.059 blasted Helen off the line and our quickest sixty foot time of the weekend sent her on to a new personal Best for Shakespeare County Raceway of 9.59 at 137.8mph.
The lesser spotted white-belly-man......
So, we'd run under our dial-in again but we were not to upset because the Belle was pulling well. We rested up for another couple of hours until the Bunch were ready for the 3rd and final round. We chose the right hand lane, as we tend to run slightly slower in that lane, and netted a 9.74 at 136mph, much closer to our 9.72 dial-in.
A rather unexpected thing happened next... as we headed back to the pits after the run, a few spots of rain descended, these few spots got heavier and heavier until we had a full rain shower under way. We raced back to the pits and hurriedly covered the Belle and got ourselves under cover.
The Nostalgia Nationals had come to an abrupt end with half the Wild Bunch cars getting soaked in the staging lanes.... We packed up in the rain and drizzle and then headed over to the Backdraft bus for the prize giving. No trophies for us this week, but many teams had overcome technical problems, put on a great performance, shown incredible consistency, and achieved new personal bests, so we had a big smile applauding those teams who make it so much fun to race in The Wild Bunch.