The Shakespeare Nationals.
Ultimate Power Series Round 2 & Real Steel Series Round 2
29th-30th April '06
Friday..... After a very long weekend at the Easter Thunderball we got home 11 days ago. So after two short weeks at work and in the garage (finishing off a few bits) we headed down to Shakespeare County Raceway. Friday greeted us with a couple of treats, firstly was some fantastic home made veggie sausage rolls courtesy of Terri Nichols (Destiny's Angel team), and secondly was a smart new aluminium breather tank courtesy of Crazy Chris from the Backdraft team. The sausage rolls kept us fed all weekend, and the breather tank (BIG thanks to Chris) meant that we could fit our new stainless steel zoomie headers. I'm obviously biased, but I think they look absolutely smashin!
Now THAT's a sausage roll....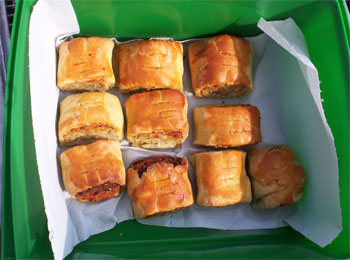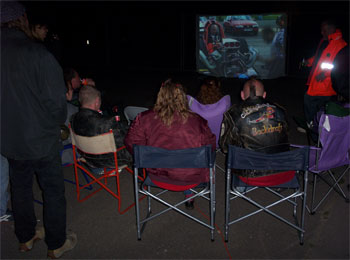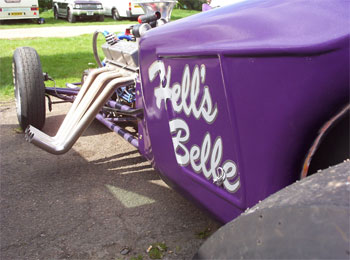 Our second qualifier was on the cards and without any firm data from the first pass we dialled in another 9.70. This time all was on good form and we ran a 9.72 to bump us up into number 1 qualifying spot, at least for the time being!
Hell's Belle 2006. New body shape, new paint, new headers... yummy!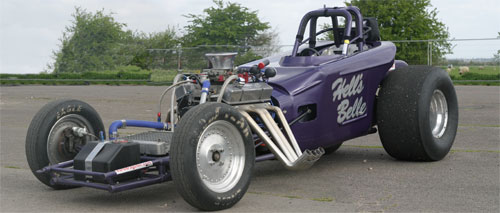 Wild bunch cinema courtesy of Darryl and Sarah Howells, a.k.a. D.A.S.H. racing.


Pooky, Penny and Drafty enjoy some grapes and a game of Dragster "Top Trumps".
Ooooo, they are soooo cool....
Who qualified Number 1 then?
The weather was looking good for a few rounds of qualifying on Saturday so we were up bright and early to get Belle warmed up and to take a few laps round the pits to checkout the new headers and breathers. All seemed in order so we joined the Bunch for the first qualifying round at about midday. Helen launched down the track but at around 1000ft there was a cloud of blue smoke showing that all was not well. On recovery of Helen and the Belle, there was oil sprayed over the back of the engine, onto the body and over the cockpit (and Helen!). Chief spanner monkey Dean had not fully seated a rocker cover and oil had blown out at high speed. To repent for his error, Dean spent the next couple of hours stripping, cleaning and re-fitting parts from around the rear of the engine, in order to get the girls back out.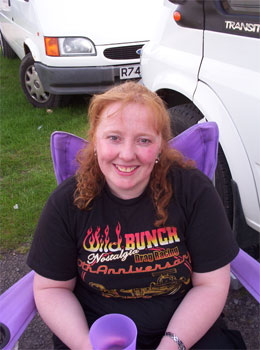 s
Qualifying continued for another two rounds, with us running no better than before. It was a close call between the top qualifiers, but no-one bettered our 0.02 margin so we had secured that spot for the event. All-in we had run 4 out of the 5 qualifying rounds and we'd had a pretty hectic day, so we were pleased to settle down for the evening with a few drinks and an opportunity to watch the days qualifying rounds at the Wild Bunch cinema. Just bring your own chair!