The Easter Thunderball.
Real Steel Series, Round 1: 14th-17th April '06
Thursday... the weekend starts here!
The Easter Thunderball is a four day race event, with Friday, Saturday and some of Sunday set aside for qualifying and Sunday evening and Monday for eliminations. This was the first time the Wild bunch had competed at the Thunderball and it was Santa Pod's 40th Anniversary, so we were all quite excited!
Another wee tipple, just to keep the cold out, obviously!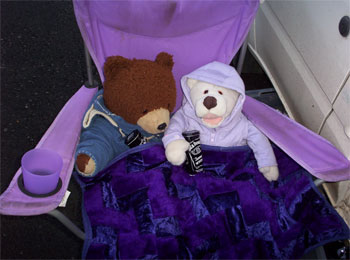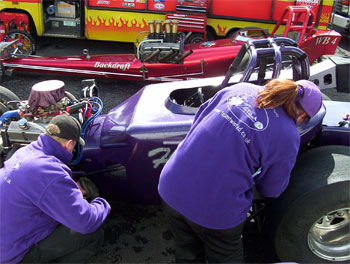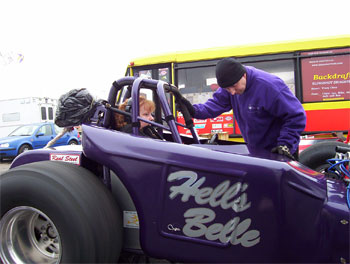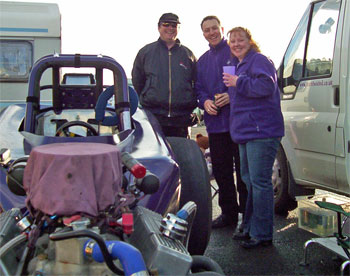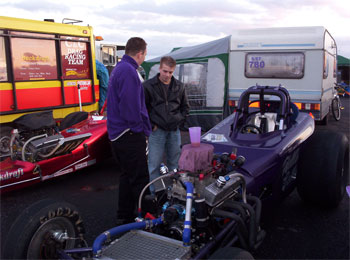 We arrived on Thursday afternoon after a rather slow journey along a busy M1 and headed into the pits to find a couple of other bunchers already there. On the opening evening scrutineering is on a first come first served basis at the Pod, so we unloaded the Belle and headed straight off to scrutineering.

Qualifying begins. woohoo!


Warming the Belle.... and Dean's head..
Sharky and the crew finding something rather amusing... I think they're looking at you!
Our first run was just before two o'clock and we ran a baseline 10.09 pass. The next pass slowed to a 10.256, but Helen wasn't sure if everything was right in the drivers seat and the 60ft time showed that there may not have been full brain to foot co-ordination.
The third and final qualifier of the day came at twenty to eight in the evening and this time a good start and the cooling air gave us our first nine of the weekend, a 9.91 at 134mph against our 9.8 dial in.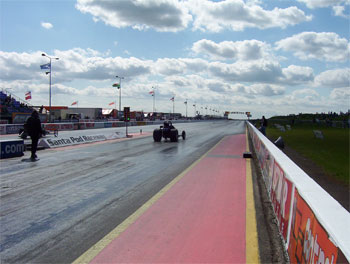 Keeping te Belle spick and span. (what exactly does that mean.....??)
The Friday morning came round and we were looking forward to getting out on the track. The plan for this event was to let the Belle go for it and see what we could do. It looked like we would have at least five qualifying rounds over the next few days, so we knew we would be able tinker and see if we could improve our times.