The Season Begins....
The Power Nationals.
Ultimate Power Series, Round 1, 1st-2nd April '06
WAHEY!!! It's racing time again!
After an off season of monstrous proportions (or so it seemed) we headed back around the M25 and up the M40 to visit Shakespeare County Raceway and meet up with the Wild Bunch for the first round of the Ultimate Power Series.
We had spent the last 6 weeks or so modifying the bodywork on the Belle to lower the side skirts, add a radius to the wheel arches, generally improve the fit and splash on some fresh purple paint. Click here for some "bodywork in progress" photos.
What a "cracking" start to the season!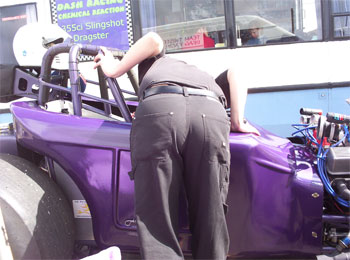 The days building up to the event had been showery and the kick-off on Saturday morning was delayed 'til about 11:30am. The Wild Bunch were a bit down the running order and we headed out for the first qualifying pass and our first pass of the season at about 12:50.
As our first pass was going to be made with a few unknowns, we dialled in 10.0 flat. The girls produced a rather off-form 10.60 and was slow off the tree, beaten away by Alec Coe. Having said that, it was good enough to give us the 2nd place qualifying position after the first round.

The guys enjoying a wee tipple from a friend.


Who's a pretty girl then?
Due to the weather, we didn't get anymore qualifying runs in on Saturday so it was time to get comfy in the van, with only alcohol to warm our cockles on a rather chilly night. Pooky and Penny managed to stay toastie with a shot of the good stuff left over from their Christmas pressie.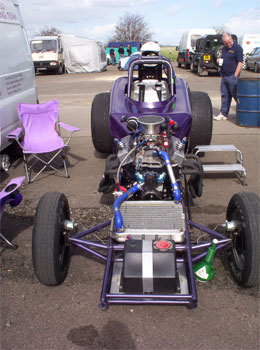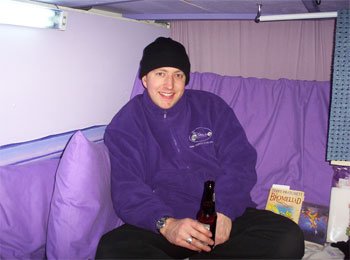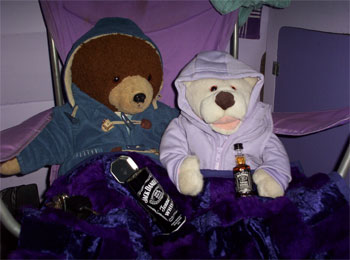 Sunday was a mixed affair with showers and a couple of delays meaning that the event was called off before the Wild Bunch could make their pairings. So, we moved on from the weekend safe in the knowledge that the Belle was in one piece, but looking forward to the next event more than ever!