Halloween.........
29th-30th October '05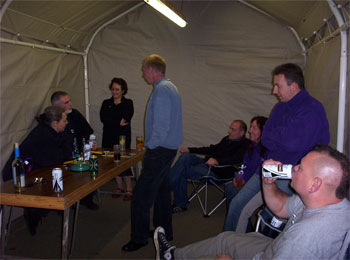 As the racing season has come to a close it's Dean's turn behind the wheel of Hell's Belle... and that's a scary thought..... read on.. if you dare!
As is now becoming tradition at Halloween, Team Twisted prepared for a weekend of fancy dress and friendly banter at the Halloween Showdown. After the success of our fancy dress last year we decided to go one step further and prepare spooky cakes, witches fingers, and bat cookies to sell for charity.
SCARY CAKES!!!!!!!! ooooooohhh!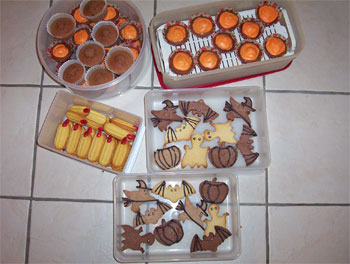 After arriving at the track on Friday night we met up the other teams and kept warm in Steve and Leslies pit. A couple of JD's later and the usual bench racing and general chatter kept us happy and warm. Janet Brown had made a superb "Vampire" Guy for the bonfire on Saturday night and Helen and Christine posed for a photo before heading off to get some rest before they had to push Dean around all weekend. (In the car, not just verbally!)

Crazy Claire gets in the hot seat.


Janet Brown's fantastic Guy, as modelled by Helen and Christine.
If the Black Pig guys didn't want a tent full of bunchers ....tuff... it was cold outside
Saturday morning came and Dean got suited up ready for his first pass down the drag strip in 2005.
Having a previous personal best (PB) of 13.05@97.8mph, Dean was certainly on the lookout for an improvement but he was unlikely to get anywhere near Helens quickest times! Dean's first shot netted a 12.65@95mph, he then improved to a pair of mid elevens at 11.56 and 11.47 before rounding off with a new personal best of 11.11@117mph. Helen and Christine stayed in their costumes throughout the day and crewed superbly.
Also in the hot seat for the very first time this weekend was Crazy Claire from the Backdraft team driving Mark's "Awesome 4some" slinghsot. Congratulations to Claire for a superb set of runs during Saturday, getting quicker and quicker with each pass.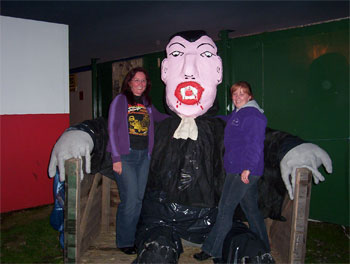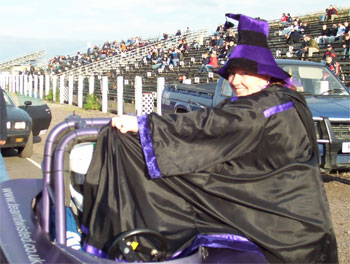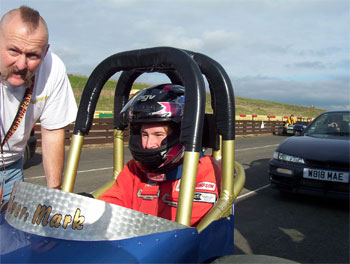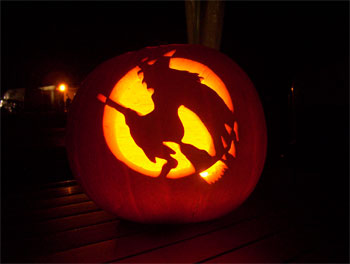 Which way did this Twisted Witch hitch?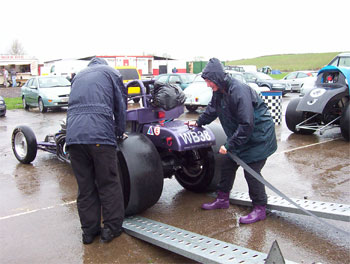 Wellies at the ready... (and did we need them!)
"My wings are like a shield of steel!" (If you don't get this you're too young.... or too old.....)
Sunday morning started out wet and just got worse, by noon most teams had made the decision to call it quits and we packed up and headed for home. Dean had a new PB, we'd made money for charity and the Belle was still shiny side up.... all in all a good weekend.
After the fourth pass, Dean was happy with his performance and the team set about distributing the spooky cookies and cakes. Many thanks to all those who bought a treat and we managed to accumulate £80 for the Royal National Institute for the Blind.
As evening approached we set about partying with the other escaped loonies....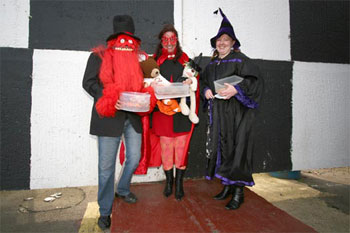 Would you buy a cookie form these guys? Many thanks to those who did!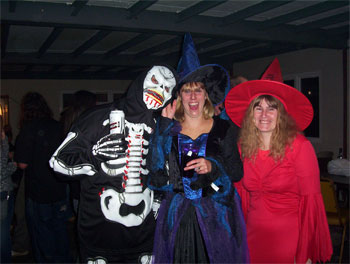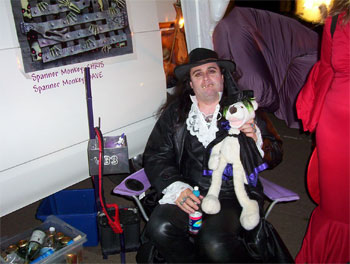 I think Darryl needs a good meal inside him....
Who vants to stay for dinner..? Ha ha haaa....