Hot Rod Drags:
Roy Wilding Nostalgia Race Car Series.
Final Round: 17th-18th September '05
Sunday, race day!
After a couple of very weak shandys the night before and the blisteringly early kick off of 11a.m. on Sunday morning, Team Twisted roared into action. We headed off to join the queue which was the theme for the day. Hot Rod drags is always busy and this year was no exception with exhibition classes booked for half of the day leaving us lowly RWYB'ers twiddling our thumbs in the staging lanes. In a marked demonstration of foresight, Helen took a good book down to the staging lanes with us....
Oooooo what a smart team...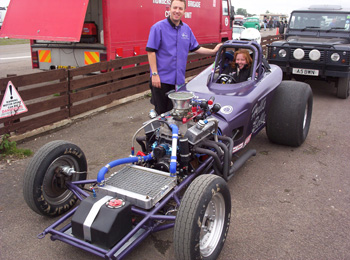 Enough moaning and back to the action! After yesterday's storming consistency we dialled in 10.34 for Sunday. Our first run showed how little we knew as the Belle ran 10.21, straight under the dial in and proving the day would be interesting to say the least...
The second pass was 10.18 indicating that the Belle was definitely a bit quicker after her good nights sleep. Knowing that a top three position was now looking more unlikely, Helen decided to give the burnout a bit of stick and see if we could impress the crowd with some more tyre smoke. During these extended burnout's an intrepid photographer gave it his best shot with the fantastic results shown here on the left.....



Bored of reading now.....
Yaaay!! Lunch time at last.(4:15pm.)
Dean and the Belle. Helen and her book.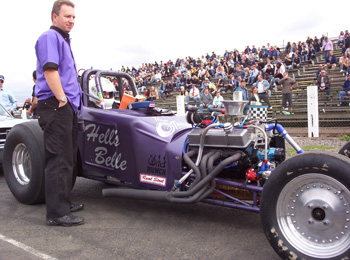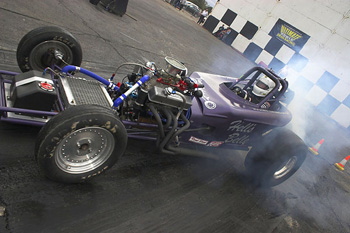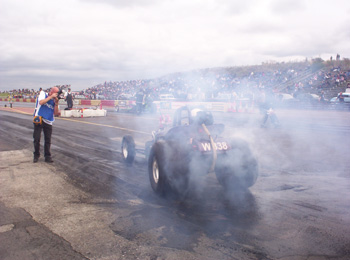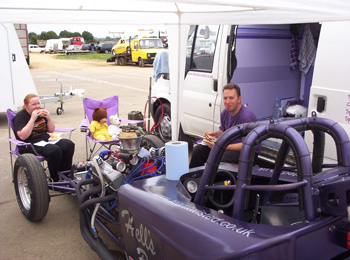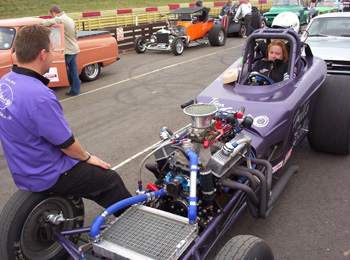 Crew man Dave did a sterling job capturing a couple of the races on video, so follow one of the links below for a taster of the action.
See you at the Finals!! Vrooom!!
We headed down for the last run to see if we could claw back some margin to the dial in , but it was not to be! The final pass of the day was 10.12, the Belle had gone quicker all day and we were now about 0.16 under our dial in, not a winning performance with the quality of competition in the Wild bunch, but we were happy because we could head back to the van for a spot of tiffin...