The Uk Northern Nationals: Wild Bunch Round 5,
Roy Wilding Nostalgia Racecar Series Round 3
Real Steel Round 7, 6th/7th August '05
Friday and Saturday,
After a quick trip to Hull to pick up Crew member Christine, Team Twisted arrived at the track and set up camp in line with the other Bunchers. Saturday Morning started fine after some dampness the night before.
Quiet time and we're all asleep.... but who's taking the photo!?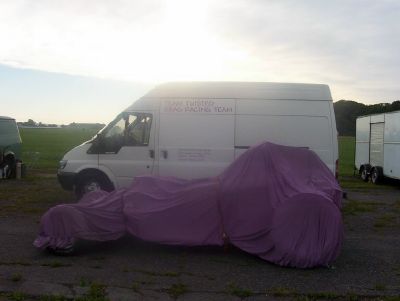 We decided to sit out the first practice round and wait till later in the day to try out our tactics. So, after preparing the Belle and warming her up, The Wild Bunch set out for their second practice round at about half past twelve. Following from our previous discomfort at York, we had decided to run 1/8th mile passes with Helen lifting as she past the 1/8th mile marker. The first pass, in the left hand lane, netted a 12.44 at 76mph and Helen found the track to be smoother and flatter than the last outing. Exactly (to the second!!) 2 hours later, our second pass, in the right hand lane, was 13.19 at 76mph showing that consistency was not going to be our strong point this weekend.



See that... that's top quality crewing that is....
Dean warms the Belle up. Helen doesn't let him get in there that often!
Thumbs up from the girls... Team Twisted, looking good!!
Another 2 hours later (to the minute!) and Helen was back in the left lane to record 12.23 at 80mph.
Although we knew it was going to be a long shot, we looked forward to Sunday to see if we could make our mark.
On Saturday night a crowd gathered to watch a video of the days racing, recorded by the "Destiny" team and shown on a screen inside Steve and Leslie Field's "The Black Pig" awning. Thanks to all involved as it proved a fantastic treat to see the racing straight away, and the cover was very much appreciated as the heavens opened during the show to leave a very damp pits overnight.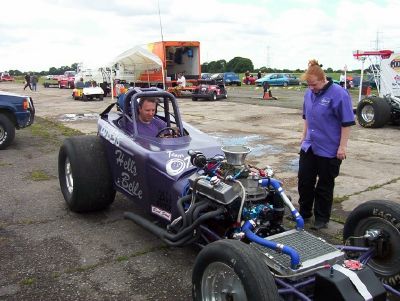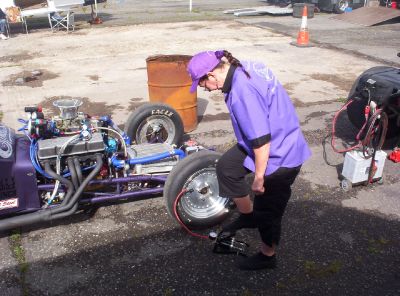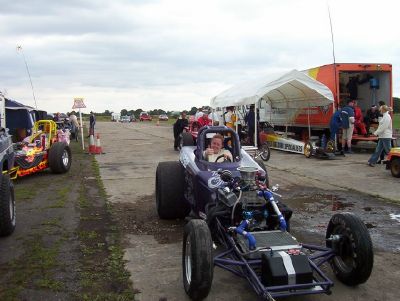 Watch a video of us watching the video of the racing!!
d