The Nostalgia Nationals
Roy Wilding Nostalgia Race Car Series Round 2
2nd/3rd July '05
The Nostalgia Nationals can be a pretty busy event, so Team Twisted had the day off work to travel to the track in the afternoon. After arriving and setting up camp, the heavens opened and reminded us why drag racing in England may not be such a smart move. Helen discovered a small oil leak on the rear axle and set her crew chief to work. Once the hub, disc and axle shaft were removed, inspected and all sealed back in place, the Belle was ready for fun.
Dean "at one" with the British weather.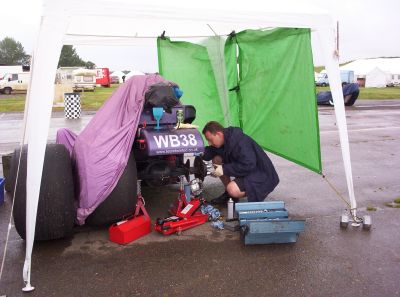 On Friday evening the MadRs team and their new "Shy Talker" blown slingshot arrived for its debut... Big ooooooo's from every one!!
Thomas the Transit had new sign writing applied, telling the world about the Belle. Crew member Dave was on hand for duty over the weekend to assist where needed.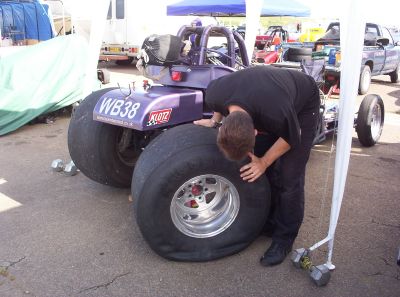 Corr!! Great new sign writing on the van...
I spot a Trespasser in the pits... but on this occasion we'll let them stay.
Saturday morning came and the sky was still heavy with black clouds. These eventually cleared and it was time to get down the track. The plan at this event was to tame the Belle down from her mid 9 second runs until we had a bit more experience with both the engine and the car at speeds of over 120mph. The first pass hit 10.22 at 135mph which was around half a second slower than the previous weekend and heading in the right direction.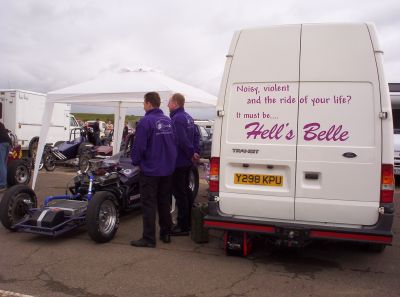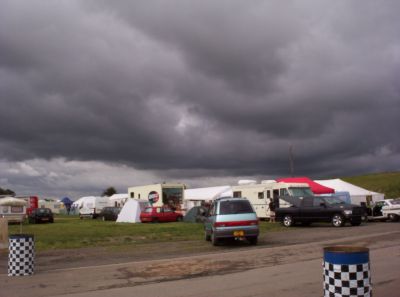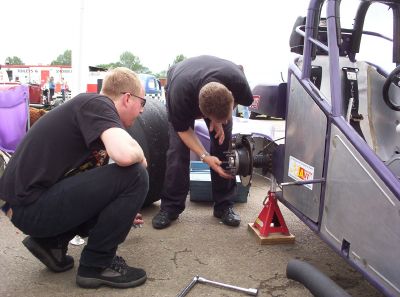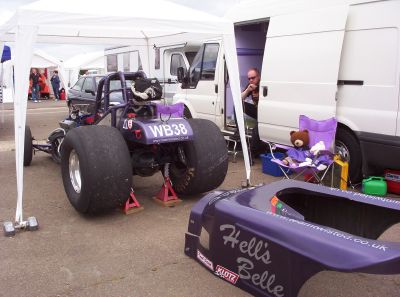 Two hours later and we'd made our way back to the track to run a 9.994 at 136mph, showing that the Belle didn't want to run too slowly! We headed back to the pits for a bit more tinkering, but when the tyre pressures were checked, Dave discovered a puncture in the right rear slick.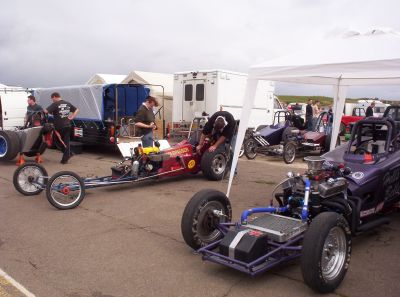 Crew chief Dean and crew Dave, assess Dean's earlier repairs.
Glenn, the Scrutineer, almost passes our "band aid" repair, but he does suggest we colour it black with marker pen.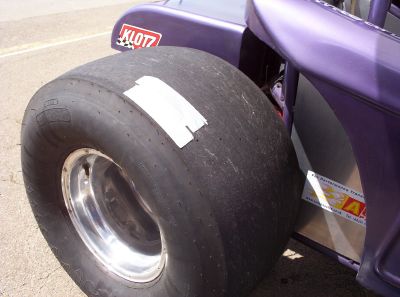 That sinking feeling grips the team when the puncture is discovered....
By the time the puncture was discovered it was too late to head into town to try and find a repair shop. Sunday morning saw a three hour trek around Stratford, Warwick and Leamington, trying to find a tyre shop to repair the puncture, but with no luck. So, Team Twisted's racing adventures for the weekend were brought to an abrupt end..... Booo!
We wrapped up Sunday watching and taking photo's and video of the other Bunchers in the sunshine, so all was not lost and the puncture would be repaired in time for the Mini Showdown in 2 weeks time.....