The UK Open Nationals
Wild Bunch Round 2, Rot Wilding Nostalgia Racecars Round 1 and Real Steel Round 3
29th/30th May '05
Racing at York takes Team Twisted on the long haul up the east side of the country. We departed on Saturday morning and picked crew member Christine up from Hull at Saturday tea time before heading off to the track at Melbourne near York. We met the Backdraft team in the pits and lined up down the centre isle. By the time the remaining Bunchers arrived the display of cars in the pits looked in great shape. The evening entertainment was provide by the Trespasser team who where attempting to erect a slab sided Army surplus tent in a gale force wind!!
Christine enjoys breakfast in the sunshine.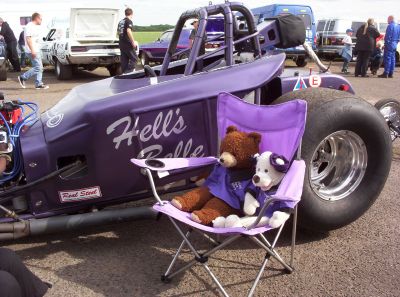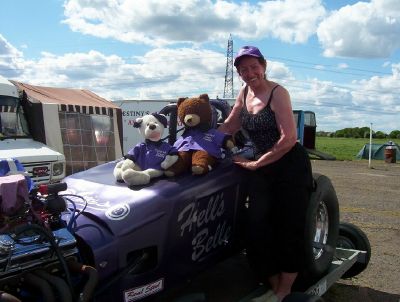 The weather on Saturday morning was bright and fine, Helen put in her first pass at 12:30 recording a 13.40 at 90mph. Helen and the Belle have never enjoyed racing at York and the slower than usual time reflected Helen's discomfort. As we learned last year, the bumpy track surface at the top end and the Belle's hard mounted axles and short wheelbase make for an uncomfortable time.



Crewing and posing..... as usual for Pooky and Penny
Sarah shows off Bernie's pride and joy.
How do you think MI5 gets those spy shots?
Helen decided to put in one more pass, this time a bit slower to see if she could lift after the eighth mile and survive the journey. The 14.5 at 70mph ticket demonstrated a slowing pass but Helen was still unable to see past the eighth mile due to the vibration.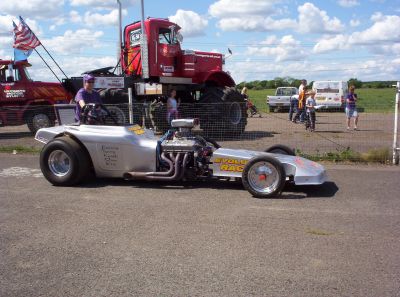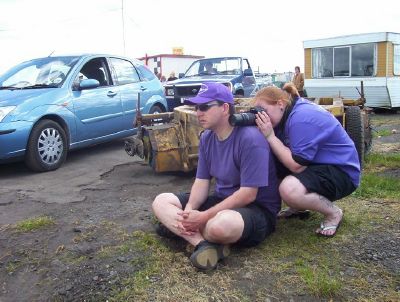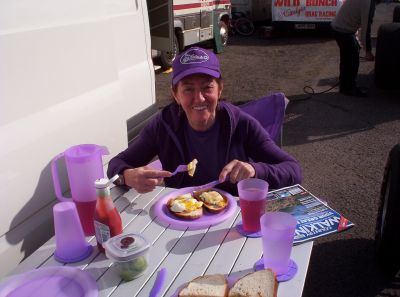 Sunday was race day and the team decided to make the showing on the first round and then see how things looked. After another bumpy ride Helen again lifted at mid track for fear of damaging the car. After a team conference we agreed that we're in this for fun and the fun just wasn't there, so we wouldn't compete in the remaining rounds
After deciding to sit the rest of the day, we grabbed the video and stills cameras and made the most of the opportunity to snap The Wild Bunch in action. Some great shots of all the racers and the start line video of the cars launching, provided the excitement for the day and the weekend also saw Hell's Belle win the spot prizes for "Best Altered" and "Best Appearing Team" from the York crew.
The crew enjoy the sunshine.