The "American Car World" Nationals
Wild Bunch Round One, Real Steel Round 2
14th/15th May '05
Saturday,
Good weather on Saturday morning was a relief after the wind the day before. We needed to get an idea for the dial in on Sunday, so we set out to get some runs in. On the first run of the day Helen had brain fade and tried to set the transbrake in second gear.... a red light for the red head girl on a 13.15 pass at 97mph. The second round netted a 13.13 at 97mph.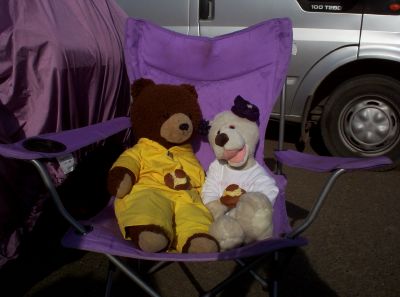 It was now time for a short break for Bernie's cakes! Well, credit should really go to "Mrs. Bernie" for her delicious home made butterfly buns enjoyed by all of us, especially Pooky and Penny.
Saturday's last two passes were 13.03 at 97mph and 13.15, again at 97mph.



More cakes from Uncle Bernie.
Suited ready in the staging lanes..... but going nowhere...
Brolly for rain.... brolly for sun... oh no sorry... it's a parasol darling.
Sunday saw us dial in at 13.0 flat for the day. Our first run at just before midday, saw us run a 12.85 at 99mph, the slightly cooler air knocking a tenth off Saturdays times. The second run was another 12.85 at 99mph. After the usual hour and a half break between rounds Helen blitzed the tree with a fantastic 0.001 reaction time and ran a personal best E.T. of 12.72 at 100mph, putting us way under our dial in, but did she care? Noooo!
The final run of the day was a slower 13.30 at 84mph; Helen's ability to judge a "slight lift" at the top end needs some more tuning!
So all in all another fun weekend for the team and we took away the "Best Reaction" trophy as Helen managed both the best and second best reactions for the day,
Helen and the Belle pose for the camera.