We meet the Wild bunch
FRIDAY
After avoiding two motorway jams by using the minor roads, we eventually arrived at Shakespeare County Raceway at around 7pm. We set up camp and were ready for a beer only to find the bar closed....
Off to Stratford we went!
Friday night arrival sees us setting up camp in the pits with a few fellow racers.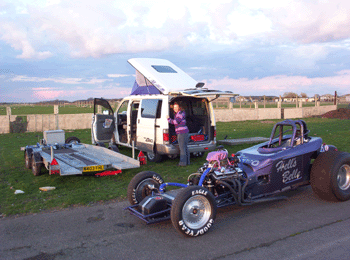 d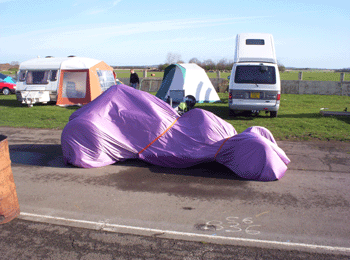 Don't be fooled by the blue skies. Saturday ended in torrential rain and Hell's Belle spent most of the time like this!
SATURDAY
After scrutineering and signing on we joined the throng and made our first pass at around 12:30, achieving 14.89 @88.9mph. The second pass of the day produced a 14.45 @95.95mph. After this the weather turned very nasty and rain stopped play.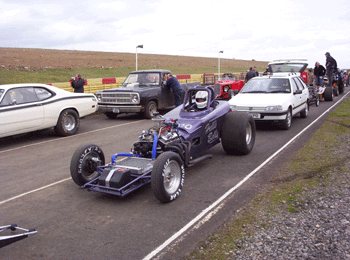 Saturday morning and we're in the staging lane, keen to put in the first pass of the weekend.
Sunday and we're back in the staging lanes again.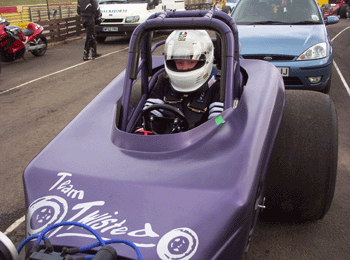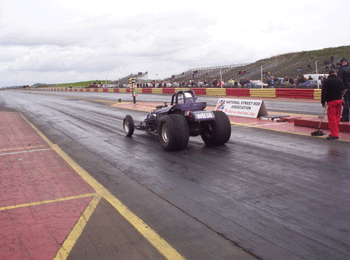 SUNDAY
Our first run was at about midday and achieved the first 13 second pass with a 13.60 @97.19mph.
Rain stopped racing for four hours and quite a few competitors called it a day. But when the sun came out and dried the track again Helen put in two more passes breaking the ton with 13.28 @102 and then reaching 12.75@104.41 mph
Vrooooooooooom!!!
In summary, the weekend produced five successive personal bests! (and a lot of wet clothes)
Shortly before a new personal best for Helen, 12.75 at 104.4 mph!