2004 Off to a flying start!
The first run what ya brung of the season got off to a busy start with a capacity sign on of 280 people!
Since Helen's driving license was still in Swansea being changed for her new married name, Dean got to drive again! Wooo hooooo!
Hell's Belle first and only pass of the day netted 14.9 at 95mph. Cold weather and an inadequate burnout led to a squiffy start and Dean lifted to regain some traction.
Unfortunately, a small mist of oil after the pass led to lots of engine peering, only to discover a small oil leak at the back of the inlet manifold gasket. With no spare gaskets to hand, this stopped play for the day.
The day wasn't a waste as we introduced our new crew member, Dave to the fun and games of life at the track.
Another great morning at Santa Pod. One of the very few race cars at the track draws quite a lot of attention form the rodders and racers.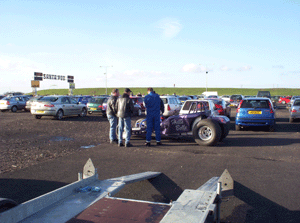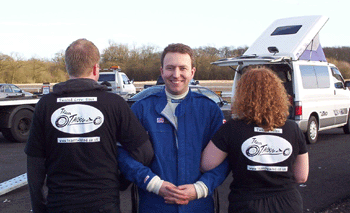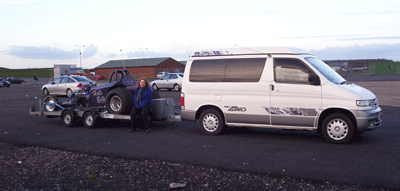 Oil leak puts us on the trailer and Helen is ready to head home.....


New crew member Dave and Twisted Helen show off their new team t-shirts.....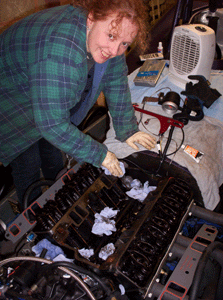 .....because she knows she has a couple of fun evenings ahead changing the inlet gasket! Dean provided directions and the motivation..... the odd glass of wine!