The Nostalgia Nationals Roy Wilding Round 2
3/4th July '04
Friday Afternoon
After another slow crawl along the motorway Team Twisted emerges at Shakespeare County Raceway. We set up camp with Andy Solley and the Repeat Offender altered. First things first, we checked that none of the alcohol had gone off on the journey....
Helen gets ready for another weekend's racing with Hell's Belle.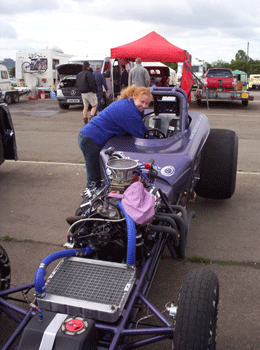 We managed to purchase a set of freeze plugs from one of the stalls and set about draining the water system and changing the plug. After a struggle and assistance from Charlie Draper the old plug was out and the new one fitted. With the system refilled and run-up to check the new plug, we were back to the track at 2:15pm with a 12.77 @101mph only 0.02 off a personal best. We managed a third run just before 5pm, rounding off the day with a 12.85 @101mph.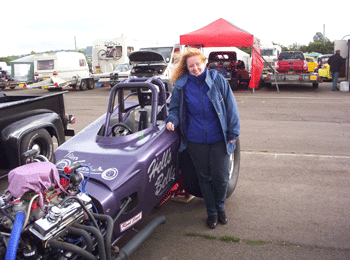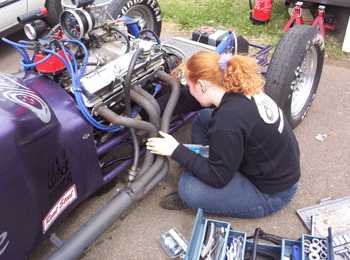 Saturday was free practice and we started our first run at about half eleven. We ran a 12.99 @100mph and Helen drove back round to the fire up road for another pass. At that point Dean noticed a water leak and discovered that a freeze plug had split, so we returned to the pits.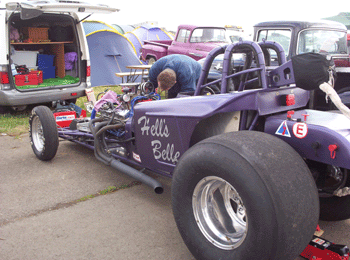 Crew chief keeps fiddling so we may have to rename him "tinker-belle" !!!
Grrrrr.... can't get that freeze plug out!
After a great weekends action, the wind decided to re-style Helen's hair!
Sunday
Competition day arrived and we joined the queue as the track opened. We dialled in a 12.81 for the day and the first pass netted a slightly disappointing 13.03 @100mph. The second pass netted 12.93 @101mph. Rain stopped play at around 3:30/4pm and The Wild Bunch settled for just two passes.
After the rain off we were not surprised to get a little sunburnt when we attended the trophy presentation at the Backdraft Bus!