The Wild Bunch Award Ceremony and Dinner Dance:
Drayton Manor
Saturday 27th November '04
A month had passed since the Halloween showdown and Saturday the 27th of November was a chance for all the Wild Bunch and Supercharged Outlaws to get back together again. We arrived at Tamworth on Saturday afternoon and bumped into the Hartnell gang and DASH racing.
Twisted best friends and mum and daughter too.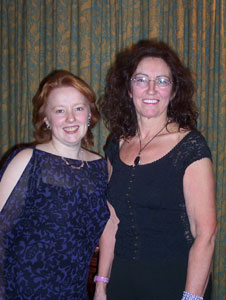 After a lovely meal the presentations got underway with awards and trophies given to the top teams in the Wild Bunch, Roy Wilding Nostalgia and Real Steal championships. In addition to these, special mention was made to the women who support their teams throughout the year and the those who work hard all year to make the Wild Bunch run smoothly.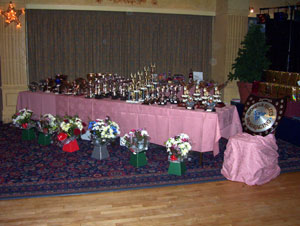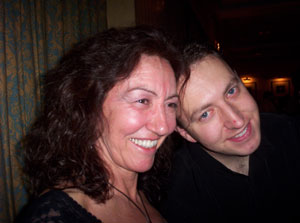 After scrubbing up for the evening we grabbed a taxi and headed off to the Drayton Manor Tower Ballroom. As it was our first year we weren't quite sure what to expect but it was a great venue nicely laid out and the efforts of the committee had not gone unnoticed.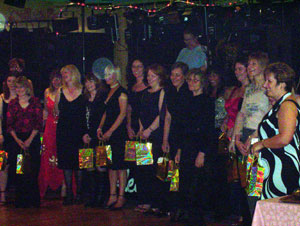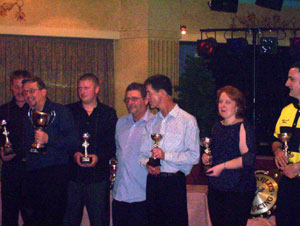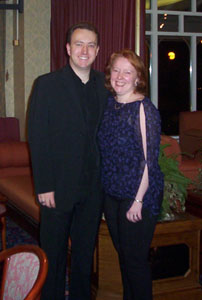 Helen and Dean ready for the evenings entertainment. (Team colours of course)
The women in drag racing, supportive and strong, without which we'd all be a bunch of smelly, hungry racers.
Dean and the in-law (or is that outlaw?)
Twisted Helen and fReQ Mikey celebrate their haul of silverware, well done guys!
Helen's smile was like that for quite a few days. The girls at work just don't understand.
After collecting her trophies for 3rd place in the Roy Wilding series and 5th place in the Wild Bunch Helen also received a fantastic surprise when she was also awarded the prize for the "Best Newcomer to the Sport"
The evening was a perfect end to our novice year in the Wild Bunch and we ended happy, proud to be a part of the sport and energised for the rebuild through the off-season.
It only remains for us to thank everybody who has helped us over this year, from our crew, to the organisers and track staff, Tammy at the breakfast van and all our new found friends, because that is what you have all become.
Catch up with us next year when the season cracks off to an early start in March.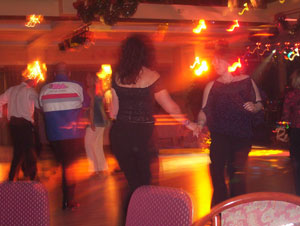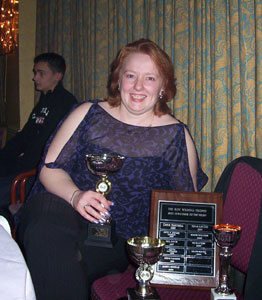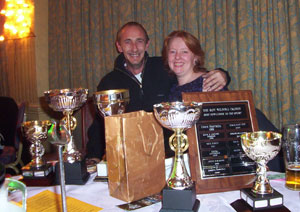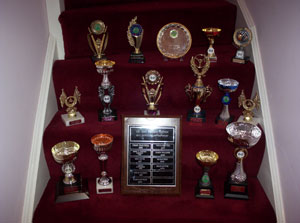 A splendid display of trophies and awards waiting for their recipients.
The Wild Bunch top ten receive their awards, congratulations to all.
Our Wild Bunch, Roy Wilding and Best Newcomer awards.
We had a great first year and 2004 won't be forgotten quickly with these to remind us.
Disco diva's, bopping and shaking the night away.